Professor Dervil Jordan
Doctorate in Education, MA, PTA, Dip Fine Art
Head of School of Education
School of Education
Phone: 01 636 4304
Email: jordand@staff.ncad.ie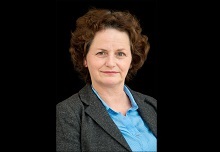 Biography

Professor Dervil Jordan is Head of the School of Education at the National College of Art and Design (NCAD) in Dublin. She has been involved in initial teacher education for over twenty years, as coordinator and lecturer on the Professional Master of Education in Art and Design and the BA in Art and Design Education. She is an art educator trained in the Fine Art discipline, interested in working in an interdisciplinary capacity across art teacher education. She has a particular interest in expanding access and participation in third level and she is coordinator of the NCAD Access programme. She has led and coordinated several European research projects and was the national coordinator of the Images and Identity Project and Creative Connections Project in Ireland. Professor Jordan completed her Doctoral Thesis on Artist-Teacher Identity in St Patrick's College, Drumcondra. She represents NCAD School of Education on national and international fora.

She is an experienced leader in teacher education, and is committed to best practice in the changing landscape of education. As Head of School she has an ability to establish a positive working environment with students, college staff, partner schools and education stakeholders. She is curriculum innovator through active engagement with research in education nationally and internationally. She is committed to the development of the School of Education within NCAD, and its future as a driver of creativity and innovation in teacher education.

Research

Completed a Doctoral study on 'The Dual Identity of the Artist Teacher within art teacher formation' in St Patrick's College, Drumcondra. (2010-2014).

Irish National Co-ordinator of Comenius 1, 'Images and Identity', www.image-identity.eu/ a European action research project which aimed to develop citizenship education through Art and Design across six European countries. The participating countries were Ireland, UK, Czech Republic, Portugal, Germany and Malta. (2008-2010).

Irish National Co-ordinator of Comenius 2-'Creative Connections' http://creativeconnexions.eu/ Part two of an action research project involving six countries across Europe in developing 'connectedness' between school children across Europe through exploring art, citizenship and digital media. The participating countries were UK, Ireland, Portugal, Spain, Czech Republic and Finland. (2011-2014).

Developing citizenship education through Art and Design, within initial teacher Education through the Images and Identity project across the North and South of Ireland. (2018-2010).

Co-ordinator of a Working Group of Art Teachers examining the proposed New Leaving Certificate Syllabus. (2004-2006).

'Contemporary Art in the Classroom'. Establishment of a 'working group of art teachers' examining the potential for change within the proposed Leaving Cert syllabus. Presentation of the results of the Working Group research project on introducing Contemporary Art in Post-Primary Schools at ESAI conference (2006).
Publications, Exhibitions and other outcomes

Jordan, D. & Lambe, J. (2013). Images and Identity, The North South Exchange: An exploration of student art teacher's visualisations of National Identity. In Rachel Mason & Carl-Peter Buschkühle (Eds) Images and Identity: Educating Citizenship through Visual Arts. Bristol: Intellect Books.

Jordan & Lambe, (2012). 'Its Easy to See which Side your On': Northern and Southern Irish Student Teachers' Reflections on Art and Identity. In Gary Granville (Ed) Art Education and Contemporary Culture: Irish Experiences International Perspectives. Bristol: Intellect Books.

King, F. & Jordan D. (2012) Exploring Citizenship Concepts Through an Art Based Lens. Journal Diálogos com a Arte. Portugal.
Jordan, D (1994). 'Responses' An Action Research Project. Collinstown Park Community College. In Jean Mc Niff & Una Collins (Eds). A New Approach to In-Career Development for Teachers in Ireland. Bournemouth, Hyde.

Presentation at Conferences

iJADE Conference NCAD Dublin, 2017 Histories of Change in Art and Design Education in Ireland Towards Reform: the Evolving Trajectory of Art Education. Paper presented with Helen O'Donoghue, Senior Curator, Head of Engagement and Learning Programmes, Irish Museum of Modern Art and Professor Dervil Jordan, Head of the School of Education, National College of Art and Design, Dublin.

ECER conference UCD, 2016 Paper presented on The Impact of Life Phases on the Professional Identity of the Art Teacher: A Life History examination of attitudes amongst Art Teachers to Teaching.

ATAI Conference Maynooth 2016, Key note address to the Art Teachers Association of Ireland entitled The Dual Identity of the Artist Teacher: A Qualitative Life History examination of attitudes amongst Art Teachers to Teaching.

EAN Access Conference UCD 2016, Paper presented with Finola Mc Ternan Access Officer NCAD on Policy into Practice: 10 Years of Access at the NCAD.

ECER conference, Porto, Portugal (2014), Paper jointly presented with Fiona King and Tony Murphy NCAD on 'Developing connectedness' between pupils across Europe through Art and Design through the Creative Connections Project, Comenius 2.

University of Lapland, Roveniemi, Finland (2014). Presentation on 'The Irish Experience of the Creative Connections Project' at their National Conference.

NCAD Dublin Ireland (2014). Organised the Irish National Creative Connections Conference and presented at the Irish Creative Connections Project.

INSea Conference, Canterbury (2014). Paper presentation on 'The Dual Identity of Artist Teacher'.

St Patrick's College, Drumcondra (2011). Paper jointly presented with Dr Jackie Lambe on Re-imagining Initial Teacher Education Conference. Presentation on 'Its easy to see which side your on' Images and Identity -a continuum. The North South Exchange.

Roehampton University (2010). Presentation on the Irish Experience of Images and Identity project. Exploring Citizenship through Digital Art.

IPDA Conference St Patrick's College, (2009). Paper jointly presented with Dr Gary Granville: Creative Approaches to Identity and Citizenship: A visual encounter with civic education.

ESAI Conference NCAD (2006). Paper presented Contemporary Art in the Classroom including an exhibition of the pupils work in NCAD.

External Collaborations

Member of the PATH 1/2/3 team Leinster Pillar 1

Member of the Heads of Teacher Education Forum

Member of the Steering Group for the National Arts in Education Research Digital Repository

Member of the Steering Group for the ETAI

Member of the Management Team the Institute of Education TCD: UCD:NCAD:MIE

Co-ordinator of the Access Programme with the NCAD Access Officer Finola Mc Ternan

Member of Jury on 'Moving Education International Product Design Competition' in Germany (2013-2014)

1999-2000 Co-ordinator of the Museum Module within the School of Education. Liaising with IMMA, National Museum, National Gallery, Chester Beatty Library and the Hugh Lane Municipal Art Gallery in relation to planning and delivering the Museum Module programme.

External Examining

Currently External examiner for Professional Master of Education and MA in Early Childhood Education. CIT Crawford (2014-ongoing)

External Examiner for the International Baccalaureate (2010-2013)

External Examiner for the PGCE in Art and Design Education

University of Ulster, Coleraine. (2003-2006)

External Examiner for PGCE in Art and Design Education

St Andrews College of Education, Glasgow. (2002-2005)



Research Statement

As Head of School I am concerned with collaboration with others and I am committed to developing 'communities of practice' in teacher education and continual professional development (CPD) with students, teachers and staff. I have a particular commitment to widening participation and access to third level art education, through the NCAD Access programme. As National Coordinator of two EU projects I have a proven track record in managing and delivering successful EU research partnerships with teachers, schools and higher education institutions. Both projects resulted in significant research outputs across six EU member states.

Current and recent research

Irish National Co-ordinator of Comenius 1, 'Images and Identity', www.image-identity.eu/ a European action research project which aimed to develop citizenship education through Art and Design across six European countries. The participating countries were Ireland, UK, Czech Republic, Portugal, Germany and Malta.(2008-2010)

Irish National Co-ordinator of Comenius 2, 'Creative Connections,' http://creativeconnexions.eu/ Part two of an action research project involving six countries across Europe in developing 'connectedness' between school children across Europe through exploring art, citizenship and digital media. The participating countries were UK, Ireland, Portugal, Spain, Czech Republic and Finland. (2011-2014)

Developing citizenship education through Art and Design, within initial teacher Education through the Images and Identity project across the North and South of Ireland. (2018-2010)

Research Students

1 PhD
5 PME
2 MA