Home »
MA Design History and Material Culture
MA Design History and Material Culture
In 2022 the Design History and Material Culture MA programme commences in September. Details of the curriculum appear below, as well as the Postgraduate Scholarship. Applications are open.
A Unique Programme in Collaboration with the National Museum of Ireland
The MA in Design History & Material Culture (DHMC) is a unique postgraduate programme based in Ireland's leading college of art and design in partnership with the National Museum of Ireland. It is offered as a two-year part-time programme (classes on one day each week) running from September to June every year, making it possible to combine the course with other professional and personal responsibilities. Graduates of the course have careers across a range of sectors including curating, academia, journalism, heritage, research, design consultancy, art practice, theatre and film. For more on the experience of recent graduates please click here.
DHMC students work with Ireland's leading experts in design history and material culture to learn about objects, buildings and systems across space and time and produce work through writing, exhibition making and public presentations. We accept applicants from all academic and professional backgrounds. As a wide-ranging course, students have included graduates and workers in art and design practice, film, art history, theatre, architecture, engineering and technology.
MA DURATION: 2 years part-time 90 ECTS credits

Irene Gilbert fashion design (detail)
Scholarships
One annual scholarship is available for the most promising applicant to the MA Design History and Material Culture. The scholarship is awarded on the basis of previous academic and/or professional achievement and all applicants are eligible, including EU and non-EU students. The scholarship application deadline is 31 May 2022. To find out how to apply, click here.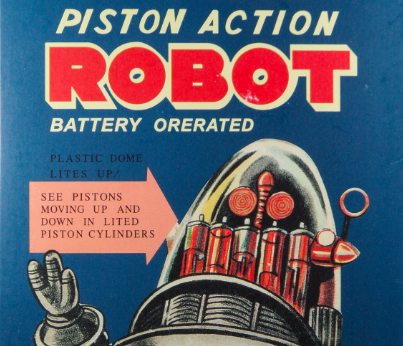 Detail of packaging for a robot toy, c. 1960
Learning
On MA DHMC, you will learn how to analyse and research the material world in a supportive, rigorous and collaborative atmosphere. Learning happens through four key interlocking elements: histories, theories, live projects and personal research projects, drawing on NCAD's experts and our exceptional network with museums, galleries and archives. It is possible to specialise in a particular area of design such as fashion or architecture through your research choices. The excellence of our student work has been recognised by success in winning international essay prizes, fellowships and PhD scholarships and through their employment as researchers and curators in leading national and international museums, galleries and publications.
In the recent past, while on the MA students have produced books (The Secret Lives of Objects), curated physical and online exhibitions (Grit, Grandeur and One Euro Bananas: an Exploration of Dublin 1 with the Irish Architecture Foundation; 136 Hectres: Material Culture in Dublin 8 with NCAD Gallery and the urban everyday with the National Museum of Ireland) and organised conferences and symposia including the major international conference Narrating the Nation on the future of national museums.
The course is taught by a core team of experienced tutors who are experts in their fields, including dress history, material culture theory, craft, modern design and architecture, design writing and contemporary technology. Guest experts frequently visit the course to share their knowledge as thinkers, curators, designers and writers.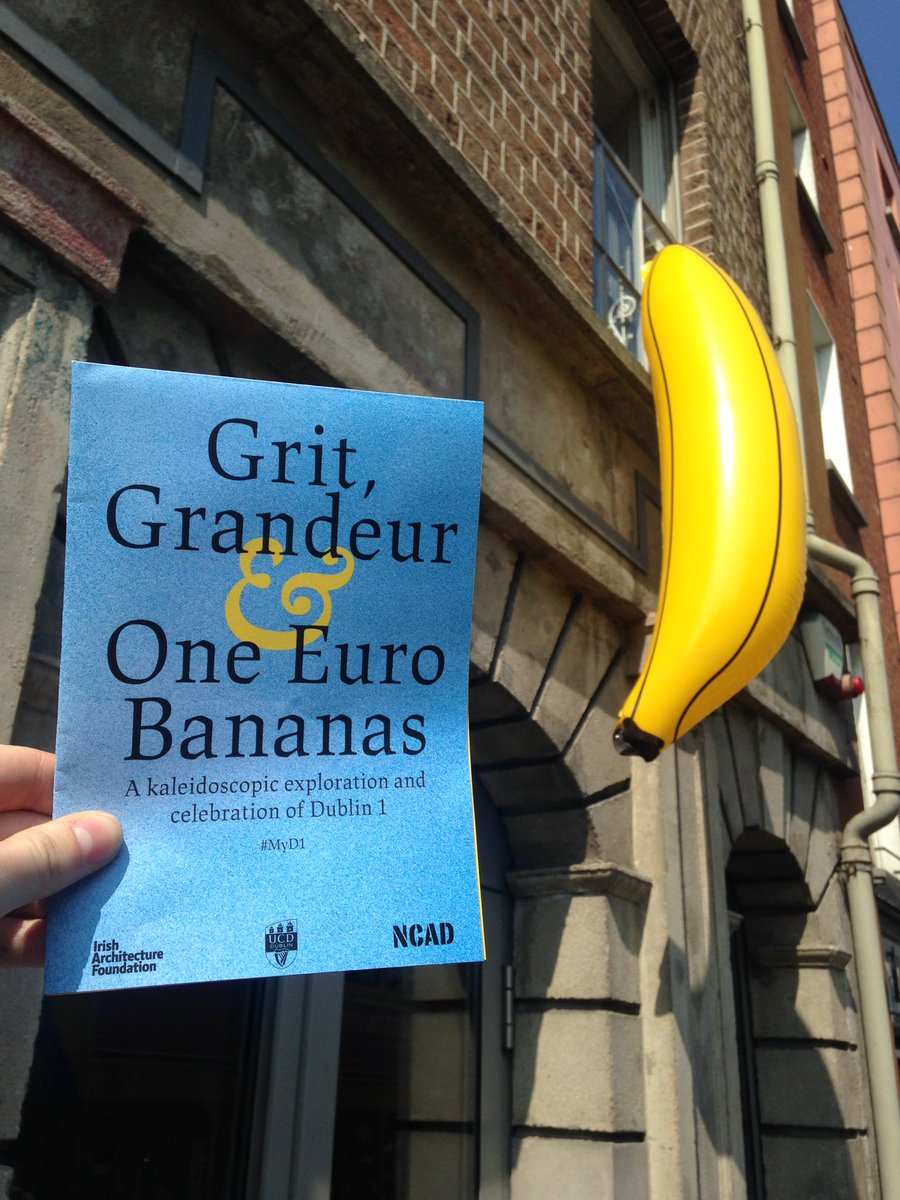 MA exhibition at the Irish Architecture Foundation
Partnership with the Museum of Ireland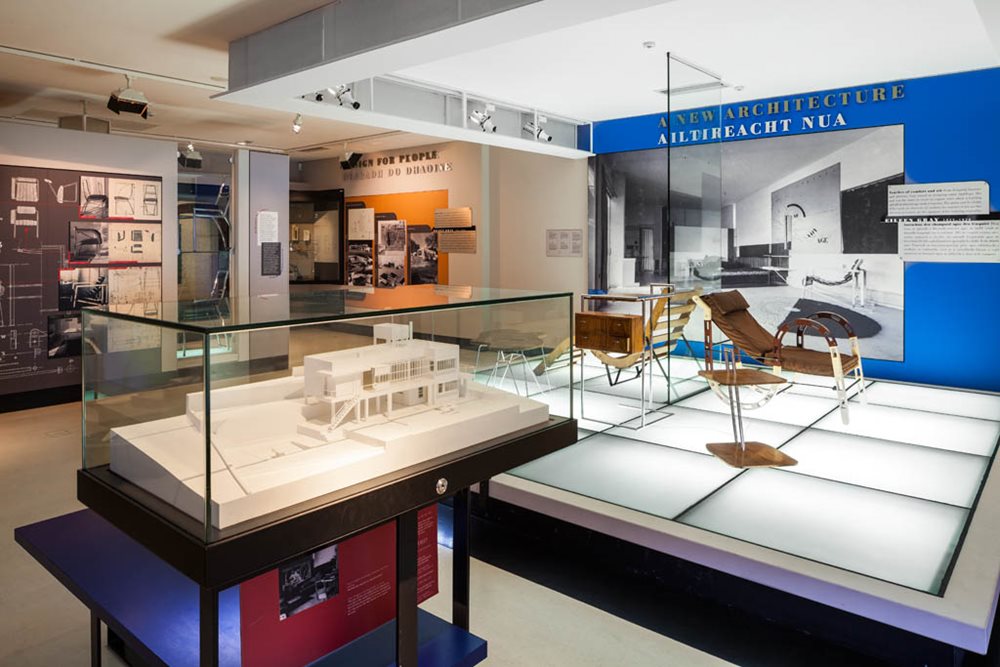 Eileen Gray display at the National Museum of Ireland, Collins Barracks
Our key institutional partner is the National Museum of Ireland, Ireland's leading museum institution. Through this partnership, students are able to work with the advice of expert curators to explore the museum's unrivalled collections of Irish and international historic and contemporary material, and collaborate on a series of research and collecting projects. Joint initiatives include an interdisciplinary public seminar series, research support and conferences.
Course Structure and Content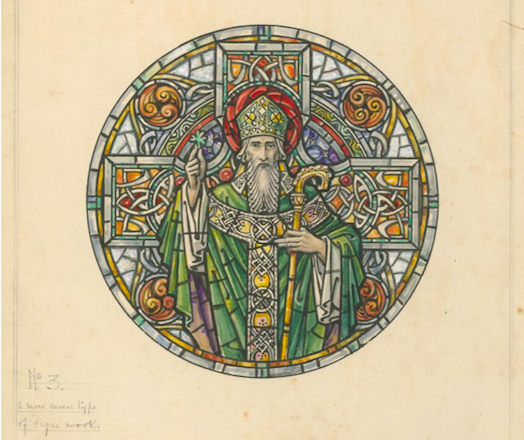 Design for stained glass from the Earley collection, NIVAL
The course is organised around a series of taught seminars, workshops, site visits and supervised research projects with students graduating with a portfolio of writing, presentations, a substantial MA thesis and the experience of being involved in a live project.
The duration of the programme is 24 months for part-time students. Part-time students attend classes one day per week (but need to dedicate further time to independent study). Students attend classes from September to June and submit a thesis in September, at the end of the MA.
Modules and courses which have been offered include:
Design Writing
Key Concepts in Material Culture and Design History: interpreting objects and spaces
Design, Display and Exhibition: focussing on a different Dublin postcode every year and working towards a public exhibition of student research
Dress, Meaning and Identity
Design and Technology
Themes in Irish Material Culture
Modernity, Modernism and Design
Alongside interacting formally and informally with studio staff and students in other departments at NCAD, MA DHMC students benefit from external engagement arising from partnerships and joint initiatives. Collaborative projects and modules have been organised in conjunction with the National Museum of Ireland, the National Library of Ireland, UCD School of Art History and Cultural Policy, NUI Maynooth Department of Anthropology and others.
Students benefit from close relationships with artists, designers and commentators, together with curators and archivists in museums and archives, including the National Museum of Ireland.
As well as having access to the National Irish Visual Arts Library (at NCAD) and the NCAD library, the most extensive collection of art and design books and journals in Ireland, students have access to Trinity College Library and all libraries and collections which are part of the ALCID network.
Collaborative projects in 2022-23: National Museum and Dublin Port
In the academic year 2022-2023, students on the MA will be involved in two new collaborative projects. The first will be with the National Museum of Ireland, and involves researching material that form part of the museum's new Twentieth Century History of Ireland galleries. Through this, students will learn about the importance of material culture in many of the most important events and movements in modern Irish history.
The second collaboration is with Dublin Port, and involves students researching the life of the port area. In attending to the historic, contemporary and future use and meaning of this specific place, themes including infrastructure, the global circulation of goods, design, environmentalism and architecture will be explored.
The Secret Lives of Objects
The Secret Lives of Objects is a publication from an exhibition and symposium produced by NCAD MA Design History and Material Culture students in 2016 in collaboration with the Little Museum of Dublin. It includes case studies of everyday objects designed, made or consumed in Dublin over the past 100 years including a milk bottle, a hair-dryer, a chocolate box and a postcard and is available to read here.
On graduating from MA DHMC, students on the programme have excellent career prospects due to their research and writing skills and their engagement with national cultural institutions. Graduates work in a number of fields including academia, writing, curating, research, design practice, design for film and theatre, heritage and arts management. The high standard of work on the course has been widely recognised, with three recent graduates receiving the prestigious Design History Society postgraduate essay prize and other students being awarded research fellowships and PhD scholarships.
Students have researched and produced work on highly diverse topics, with recent thesis subjects including the material culture of queer activism in Ireland; the ethics of living with domestic robots; Irish lace in the Nineteenth Century; the ontological status of theatre props; the influence of Japan on Eileen Gray's furniture design; garden suburb design in Dublin; butter as material culture; the wearing of fur in twentieth century Ireland and ways of understanding the material heritage of Ireland's Magdalene Laundry system.
Donna Rose (graduated from NCAD MA Design History and Material Culture 2019)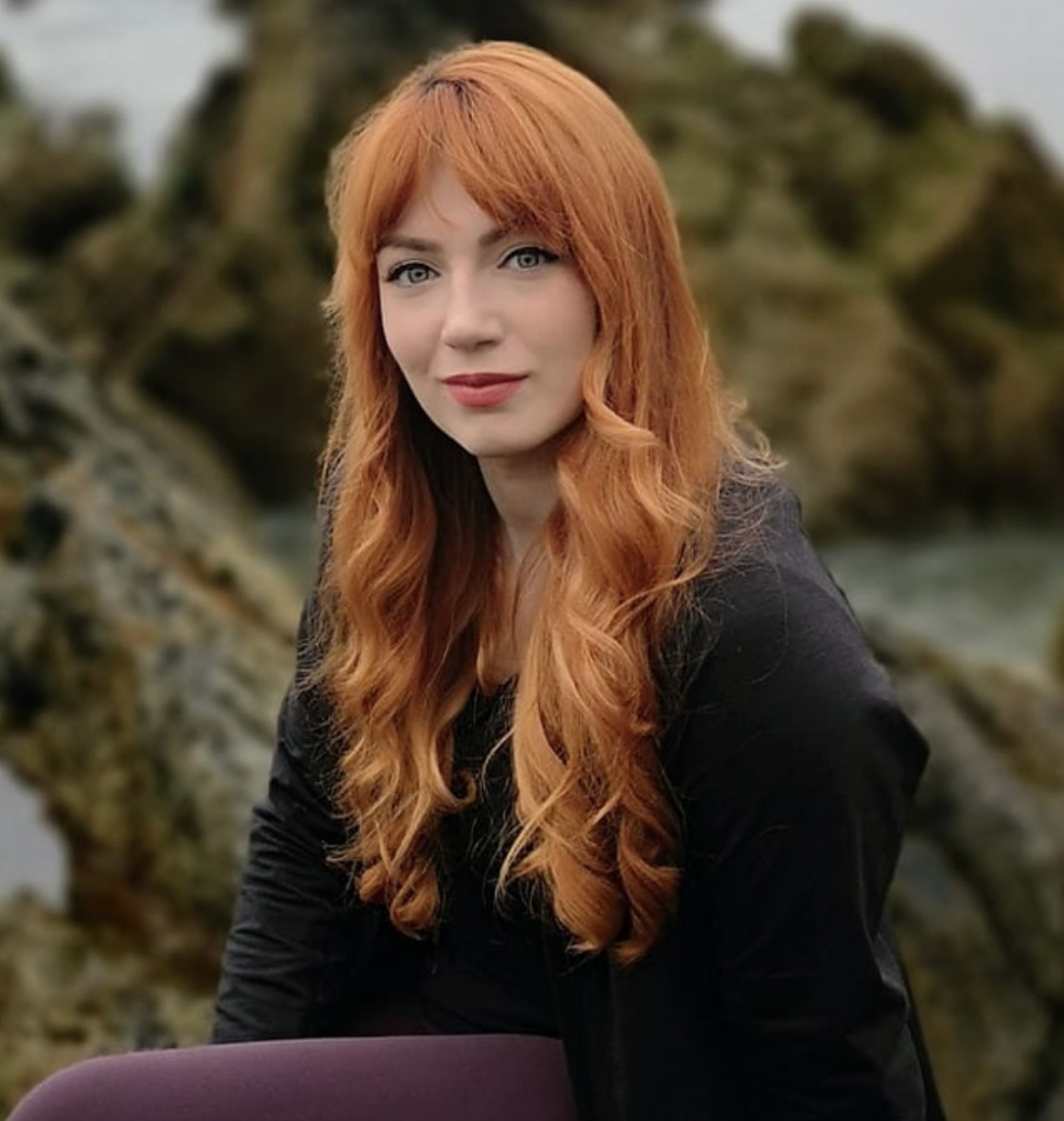 'I had initially graduated from the Crawford College of and Design, Cork, with a Fine Arts degree in 2017. It was during my undergraduate study that I realized that as much as I loved making art, I enjoyed writing about it even more. I knew I wanted to pursue further study in a field that could combine my interests in art, history and cultural studies with my desire to develop my writing and research skills. I chose to study Design History and Material Culture at NCAD because of the multidisciplinary nature of the programme. Its location on such a vibrant and creative campus was also very appealing to me.
The course content is varied, with focus on areas such as dress history, object analysis and research methods. I particularly enjoyed, and have since found very useful, the design writing module in which we were encouraged to develop our writing styles. We worked with the MA Interaction Design students on this module, and the range of insight and opinion has helped me to grow as a writer and communicator.
My time in NCAD not only allowed me to nurture my skills in writing, but also in research and everything that goes with it - following leads, meeting deadlines, communicating my findings, and approaching everything with professionalism and care. The projects we were given emulated real-world challenges and helped me prepare for the real world of work and my career.
After finishing the MA course, I immediately entered the workplace by securing a fellowship in the ESB Centre for the Study of Irish Art in the National Gallery of Ireland. I can say with confidence that my time at NCAD gave me the confidence needed to apply for the fellowship and the skills to succeed. The role involves working with objects in the archive, sharing the material culture with a wide audience and fostering interest in the study of Irish art. I feel that my time at NCAD has ensured that I can approach my role with creativity and insight.
The creative freedom that I experienced while studying at NCAD was a vital stage in my personal growth. I had the support and encouragement to develop my practice both in my research and in my writing. As an early career historian support is vital, and as a recent graduate, I continue to be supported in my professional development by the lecturing staff at NCAD.'
Jess Majekodunmi - DHS Prize winner
Photo: Ruth Medjber.
n 2019 Jess won the annual Design History Society essay prize for the best student essay of the year for her study of bollards in Dublin, produced while on the Design History and Material Culture MA programme at NCAD. The essay can be read
here. She is also interviewed here. Jess now heads up the Human Insights Lab at the Dock
Eligibility
The programme is open to graduates with an honours degree award of 2.2 or higher, or an equivalent academic or professional qualification in a relevant discipline. The College also takes into consideration prior learning and experience.
English language requirements: students who have not been educated through English must show proof of achieving IELTS 6.5 (with a minimum of 6 in the writing section on the Academic Version) or an equivalent score in another accepted test.
Application
We welcome graduates from a wide variety of backgrounds, including but not limited to: design, fine art or architectural practice; art history; history; archaeology; sociology; politics; economics; literature; film studies; theatre studies and communications.
Applicants should have an undergraduate degree (minimum level 2nd Class Honours or equivalent) but the College will consider applications from holders of diplomas (minimum level 2nd Class Honours or equivalent) in a relevant discipline.
Applications on the basis of proven relevant work experience are also considered.
We look forward to hearing from anyone with queries about the course.
Please contact the course director Dr Lisa Godson
email: godsonl@staff.ncad.ie
View Entry Requirements and Application Procedure
Postgraduate scholarship for MA studies:
Following the successes of the two Masters programmes offered by the School of Visual Culture at NCAD, scholarships covering full tuition fees will be awarded to two students on the MA Design History and Material Culture. The scholarship will be awarded on academic merit and all applicants are eligible, including EU and non-EU students.
For more information (including application procedures) on these opportunities and the research environment in the School of Visual Culture at NCAD, click here.
Deadline for scholarship applications: 31 May 2022 (applications for places on the programme remain open after this date).
You may also contact the programme director
Dr Lisa Godson godsonl@staff.ncad.ie
Application enquiries: admissions@staff.ncad.ie
Programme team
The MA DHMC is taught by internationally recognised leaders in their fields, which include dress and textiles history, cultural history, design theory, material culture studies, architectural studies, contemporary craft practice and craft history. The current course director is Lisa Godson, and the external examiner is Professor Ben Highmore, University of Sussex.
David Crowley
Professor David Crowley is an expert on modernism with a focus on Eastern Europe under communist rule. His books include Socialist Spaces (2003), Pleasures in Socialism (2010) and Ultrasounds: The Sonic Art of the Polish Radio Experimental Studio (2019). He curates exhibitions including Cold War Modern (V&A, 2008–9) and Notes from the Underground: Alternative Art and Music in East Europe (Lodz and Berlin 2017-18). He also curated the Warsaw Poster Biennale in 2016. He is also the author of various books in the field of urban history, material culture studies and graphic design history and music.
Lisa Godson
Dr Lisa Godson's research interests include contemporary art and design and Twentieth Century Irish material culture and architecture. Recent publications include Modern Religious Architecture in Germany, Ireland and Beyond: Influence, Process and Afterlife since 1945 (Bloomsbury, 2019); Understanding Uniform: Clothing and Discipline in the Modern World (Bloomsbury, 2019; Making 1916: Visual and Material Culture of the Easter Rising (Liverpool University Press, 2015); Design Learning in an Age of Austerity (co-editor, 2015). She frequently collaborates with artists, for example with Jesse Jones on the Irish pavilion at the Venice International Biennale (2017). She collaborated with Still Films for the feature documentary Build Something Modern based on her research into Irish architects in Africa.
Anna Moran
Dr Anna Moran is a historian of design and material culture. Anna held the position of Director of NCAD's MA in Design History and Material Culture from 2006 until 2016. Her research interests centre around the interaction between people and objects. She has published in the areas of glass studies, retailing history, material culture and twentieth-century Irish design and craft history. In 2018 she co-curated (with Wendy Williams) 'The Maker's Hand', an exhibition marking 50 years of the Royal Dublin Society Craft Awards.
Rachel O'Dwyer
Dr Rachel O'Dwyer's research is at the intersection of digital cultures and cultural economies. She has been a research fellow in Connect, the SFI Research Centre in Trinity College, Dublin and an IRC research fellow in the sociology department of Maynooth University. She has published extensively on digital cultures, digital value and digital art in Journal of Cultural Economies, Convergence, Fibreculture, Spheres, Journal of Digital Culture, Institute of Network Cultures, London Review of Books, CIRCA and other titles. She is currently completing a book for MIT Press, Leonardo Art|Science Series on the ownership of the radio spectrum.
Hilary O'Kelly
Hilary O'Kelly is a dress historian with a specialist interest in Ireland since the 18th century. Her book Cleo: Irish Clothes in a Wider World (2014) is an award-winning study of one of Dublin's oldest clothing businesses. She has also written on Celtic Revival dress and on the role played by National Revival dress in Irish revolutionary politics. Research interests include the role and significance of dress in art history, costume design, dress and the material culture of Ireland.