MFA Fine Art
The Fine Art MFA taught programme creates a stimulating and challenging environment for practitioners who wish to push the boundaries of their art practice, to situate their practice in the context of contemporary art and to acknowledge the productive interplay between practice and theory. The potential in this course is ultimately to advance great art work which matters to you and to others.
The MFA Fine Art programme is aimed at artists and Fine Art graduates who are interested in advancing their art practices, engaging with contemporary art and theory and considering what art might be in relation to today's social, cultural and political worlds. The MFA Fine Art is a practice-based course, structured through key pathways of contemporary art such as media, painting, print, sculpture whilst also supporting practices that emerge from transdisciplinary spaces like performance, moving image, archival, text-based and other expanded practices. There is an emphasis on interdisciplinary dialogue and debate while supporting specialized practice in the above areas.
Students are encouraged to develop their individual research pathway in finding new ways of making, modelling and connecting their projects to the professional field of the visual arts and wider audiences and situations. The spine of this programme is centred upon an experiential art practice engagement with structured components that explore research methods and contemporary practices. The advanced study required at masters level is informed by contemporary practice based co-ordinates delivered by leading practitioners in the field, including artists, curators, writers and other relevant professionals. The core components of the course are the studios and technical facilities, project spaces, written elements and critical seminars where students present work and reflect on their approach to materials and the theoretical and historical frameworks informing their practices. Through participation in these seminars, regular exhibition opportunities and other events, MFA students develop the ability to test and extend their work in an informed way.
MFA students are based in the Annex, NCAD's postgraduate hub at 101-103 James St. This facility contains dedicated studios, seminar rooms and a project space for testing new work. The MFA Fine Art programme also hosts an annual Studio Award opportunity for an experienced contemporary artist to work alongside MFA students at the Annex studios. The inaugural recipient was Níamh McCann, followed by Mark Clare, the current Studio Artist is Jaki Irvine. https://www.jakiirvine.org/
The core components of the course are practice-based modules where students reflect critically on how they make work, take a rigorous approach to the materials they use and articulate the theoretical frameworks for their practices. Through participation in regular studio seminars, students work on developing the skills necessary to reflect critically on their work, to test work in new contexts and to present their work to a peer audience.
The second core strand of the course is the Contemporary Art Practices module, a weekly lecture series featuring visiting artists, curators, critics and other art professionals. Significant discursive frames for the multitude of current contemporary practices are explored through these lectures. Recent themes have included 'the postcolonial', 'the artist as historian', 'possibilities in painting' and 'what is contemporary about contemporary art?'
All aspects of being a contemporary artist are developed on the course from making work to mediating it in both verbal, written and other formats. Students maintain a regular system of writing up tutorial reports which form a record of decision-making and reflective writing on their project. In their first year all MFA students take a module in Research Methods which assists them to understand and write about their work as research. In the second year, students can choose from different writing submissions which are supported through Visual Culture modules in art writing and key theories in contemporary art.
The MFA features regular opportunities for students to exhibit their work through interim shows and other types of outcomes. Students are encouraged to identify alternative ways and contexts for making work public, to find sites of production and to connect with different audiences.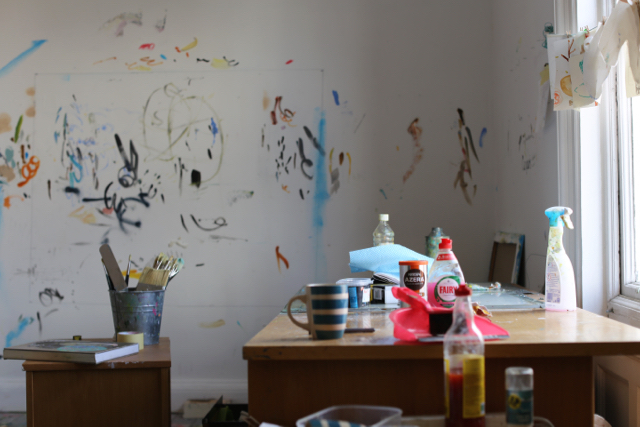 MFA in Fine Art FAQ MFA in Fine Art FAQ for NCAD graduates
The School also offers:
MFA Art in the Contemporary World (with the School of Visual Culture). Students who successfully complete the taught elements of the MA Art in the Contemporary World can proceed on the basis of a suitable portfolio to a second year of studio based study towards a MFA degree.
1st year
The programme is structured across specialist pathways in painting, fine print, media, sculpture and expanded practices, textiles, ceramics and glass with workshops, resources and technical support provided in these areas.
Every student has his or her own studio space working alongside each other in a supportive group environment. Specific research strands can emerge out of the 'studio–lab' and lead to productive collaborative projects, exhibitions and events.
Each MFA student has a personal tutor or supervisor who oversees their progress on the course and also has access to the team of MFA course tutors within the School of Fine Art. The MFA teaching team represent a wide range of practices and research within the field of contemporary art. Where possible visiting lecturers to the programme also work with students.
In addition to the core practice and theory modules, students may also choose from elective modules offered by the Schools of Visual Culture, Design and partner courses in UCD.
In the first year, second semester, of the MFA, students can travel to a partner college of NCAD under the Erasmus scheme. During the first year students are responsible for developing an interim public outcome which may take the form of a public exhibition or other event. In previous years students have worked with external curators and writers on these events and have exhibited work in different locations and venues.
2nd Year
In the second year, first semester of the MFA, students submit a written submission which represents an aspect of their research interests.
In the second semester of this year, a Professional Development module is designed to assist students to mediate their work from writing a press release to giving a performative lecture. The course finishes with a major practice project and a public exhibition of the graduating MFA Fine Art. These graduate exhibitions are accompanied by a publication and have taken place in a variety of significant cultural venues in Dublin city centre over the years as well as on the NCAD campus itself: the RHA gallery, the Hugh Lane gallery, the Douglas Hyde gallery and Frawleys former department store. The current external examiner is the artist Adam Chodzko https://www.adamchodzko.com/
The MFA is widely recognized as a mark of professional achievement within the artworld and related industries. Our graduates have gone on to build careers as artists, gallerists, curators, writers, lecturers, studio founders and leaders of artist run initiatives. Some have gone on to pursue practice based PhDs. The course has a large body of alumni who are active within the field of contemporary art and the wider culture.
Selected MFA Fine Art alumni:
Artists: Maggie Madden (also works IMMA), Colin Martin, Damien Flood, Dr Naomi Sex, (also lecturer DIT), Katherine Lamb, Sofie Loscher, Frank Wasser (also works with Tate Britain and Tate Modern Education), Michael Canning, Cora Cummins (lecturer IADT), Julian King (lecturer IADT), Seoidín O'Sullivan
curator and director of mothers tankstation: Finola Jones,
visual arts manager: Wexford Arts Centre Catherine Bowe,
artist and writer: James Merrigan,
co-ordinator UCD College of Science, Artists in Residence: Emer O'Boyle
MFA FINE ART / MFA DIGITAL ART SCHOLARSHIP OPPORTUNITY WITH THE NATIONAL FORENSIC MEDICAL HOSPITAL
The scholarship is offered through the School of Fine Art at NCAD and represents an opportunity for the recipient artists to work with the National Forensic Medical Hospital (NFMH) in a period that covers the hospital's relocation from its current location in Dundrum to its future new build facility at Portrane in North Dublin. This is the third (of three) Masters scholarships to be awarded – each of two years duration.
The scholarship is undertaken through the structure of the MFA Fine Art and the MFA Digital Art Masters programmes at NCAD.
It is expected that the project work and art outcomes developed in relation to the context of the NFMH will be pursued through the various module requirements expected of the MFA programmes. A group of postgraduate peers will develop a variety of self-generated practice proposals meaning significant on-campus delivery all day Monday through the year with further requirements on some other days. it is expected that substantial practice-based time will be spent pursuing dimensions related to the NFMH.
This practice-based art scholarship is conceived as comprising several elements. The project requires developing an engaged process potentially with residents, staff, location, function and transition as a means of developing artworks, to be placed and integrated into the hospital / residential environment.
For the funder, this engagement with process is a means of supporting a sophisticated art engagement where artworks emerge from a process. This is envisaged to include proposals, negotiated and evolved, to fully-fledged finished artworks, permanently installed. There is the scope and desire to include elements of process, sketch, development and test in this framing.
For the student, it is envisaged that evidence of the process and the art works evolved become permanently part of the hospital environment and part of the HSE collection, whilst acknowledging the authorship of the student. This is a means of developing a suite of skills and experience that are particular and transferable.
In order to maximize the effectiveness of a materials budget and the translation of art material and forms, attention should be paid to digital, lens-based and other forms of reproduction, in order to maximize visibility, as work meets its new environment. This should be understood as a negotiated process with key staff.
In addition to a materials budget there is also funding available to facilitate transport to the hospital.
It is expected that work in relation to the environments will be enhanced by other engagements by the art school.
Applications
Scholarship applicants should outline their interests and capacities in a letter (approx. 400 words) and submit this via NCAD's online application system together with supporting documentation for the MFA Fine Art/MFA Digital Art programmes.
Applicants should be able to demonstrate the ability to work with others as a component of some of their art outputs and process
Scholarship application deadline: 8 August at 5pm
Admissions enquires to admissions@staff.ncad.ie
Eligibility
The MFA Fine Art is open to graduates with an honours degree award of 2.2 or higher, or an equivalent academic or professional qualification in a related discipline.
English language: Students who have not been educated through English must show proof of achieving IELTS 6.5 (with a minimum of 6 in the writing section on the academic version) or an equivalent score in another accepted test.
Programme team
All staff across the Fine Art area have national and international profiles in relation to their work. These encompass a wide variety of specialisms and skills across a spectrum of contemporary art practice. The ongoing effort to resource their research, to develop and exhibit work and to be a part of contemporary debate in all its forms, are all understood as critical to contributing to effective and informed teaching.

Programme Leader: Sarah Durcan MFA Co-ordinator
Sarah Durcan
Philip Napier
napierp@ncad.ie