Dr. Katharina Pfützner
B.Des (Hons) in Industrial Design, PhD in Visual Culture
Lecturer
Department of Product Design
Phone: 01 636 1157
Email: pfuetznerk@staff.ncad.ie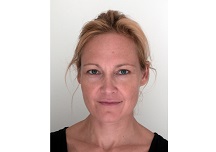 Industrial designer, design educator, researcher and writer with a keen interest in socially responsible design and in industrial design in the socialist German Democratic Republic

Katharina Pfützner holds a degree in industrial design, jointly awarded by NCAD and the University of Limerick (1998). After spending some years practicing design in a Dublin-based consultancy, she returned to NCAD to follow her interest in socially responsible design and to teach – initially on a part-time basis in the Department of Industrial Design and in the Faculty of Visual Culture, and from 2004 as EPL in Industrial Design.
Her research interest led her to embark on a doctoral project that examined industrial design practice in the socialist German Democratic Republic. The resulting thesis, 'Functionalist Industrial Design Practice in the German Democratic Republic', was completed in 2012. Katharina's work in this area has been presented at international conferences and variously published, most recently in the form of a book, Designing for Socialist Need: Industrial Design Practice in the German Democratic Republic (Routledge, 2017).
Katharina's teaching interests span a wide range of socially responsible design practices, including design for environmental sustainability, inclusive design and design for specialised needs, as well as non-commercial practices, such as design for debate. In addition to supervising undergraduate and postgraduate projects in what is now called the Department of Product Design, she also occasionally teaches design-related modules in the School of Visual Culture. Between 2010 and 2014 she was a member of the editorial board for the Irish visual and material culture journal Artefact.
Books
Designing for Socialist Need: Industrial Design Practice in the German Democratic Republic (London: Routledge, 2017)
Book Chapters
'Gebrauchspatina, Simplex, offenes Prinzip: Zur sozialen Verantwortung der Industriegestalter der DDR' in Social Design: Gestalten für die Transformation der Gesellschaft, ed. Claudia Banz (Bielefeld: Transcript, 2016)
'"But a home is not a laboratory": The Anxieties of Designing the Socialist Home in the German Democratic Republic 1950-1965' in Atomic Dwelling: Anxiety, Domesticity, and Postwar Architecture, ed. Robin Schuldenfrei (London: Routledge, 2012)
'"Cold, Clean, Meaningless": Industrial Design and Cultural Politics in the GDR 1950-1965' in Contested Legacies – Constructions of Cultural Heritage in the GDR, Edinburgh German Yearbook, vol. 3, eds Matthew Philpotts and Sabine Rolle (Rochester NY: Camden House, 2009)
'"Made in GDR": Product Design in the German Democratic Republic (1949-1990)' in Thought Lines 3: An Anthology of Research, ed. Paul O'Brien (Dublin: National College of Art and Design, 1999)
Encyclopedia Entries
Marcel Breuer, (Karl) Clauss Dietel, Konstantin Grcic, Erich John, Ingo Maurer and Wilhelm Wagenfeld in Bloomsbury Encyclopedia of Design, ed. Clive Edwards (London: Bloomsbury Academic, 2015).
Conference Papers/Talks/Presentations
Sept 2017: 'GDR Industrial Design Practice and Environmental Sustainability', Annual Conference of the Design History Society DHS 2017: Making and Unmaking the Environment', University of Oslo, Norway
May 2014: 'Zur sozialen Verantwortung in der Gestaltungspraxis der Industriedesigner der DDR' [Social Responsibility in the Practice of Industrial Designers in the GDR], Annual Conference of the German Design History Society Gesellschaft für Designgeschichte (GfDg): 'Social Design: History, Practice, Perspectives', Museum für Kunst und Gewerbe, Hamburg, Germany
April 2010: 'The Cultural Politics of Designing the Socialist Home in the German Democratic Republic', Annual Conference of the Association of Art Historians AAH10, University of Glasgow, Scotland
Dec 2009: 'Industrial Design Practice in the German Democratic Republic: Socially Responsible Approaches to Design in a Non-Capitalist Context', Symposium convened by the Ethical Design Group, National College of Art and Design, Dublin
Dec 2007: 'Advocating for the User: Industrial Design Practice in the German Democratic Republic: Research Methods', Postgraduate Research Symposium, Faculty of Visual Culture, National College of Art and Design, Dublin
Sept 2007: 'Social Responsibility in GDR Industrial Design Practice 1949-1990', Doctoral Research Symposium, Dublin Institute of Technology
Feb 2006: 'Industrial Design in the German Democratic Republic', Postgraduate Research Symposium, National College of Art and Design, Dublin
Grants/Fellowships/Awards
2016: Design History Society Research Publication Grant
2010: Travel Grant for AAH10 (jointly awarded by the Faculty of Design and the Faculty of Visual Culture, NCAD)
2010: NCAD Staff Development Grant
2004: RHA Thomas Damman Junior Memorial Trust Award
2000: Short-listing for Annual IDI (Institute of Designers in Ireland) Design Awards
1999: Award of Excellence, LG Electronics Design Awards, Seoul, Korea
Professional Affiliations
Institute of Designers of Ireland (IDI)
Design History Society
Gesellschaft für Designgeschichte (GfDg - German Design History Society)