Home »
NCAD DEGREE AND MFA Exhibition Performance Showcase
NCAD DEGREE AND MFA Exhibition Performance Showcase
9.30 – 18.00, 23 June 2016 NCAD Campus and John Street West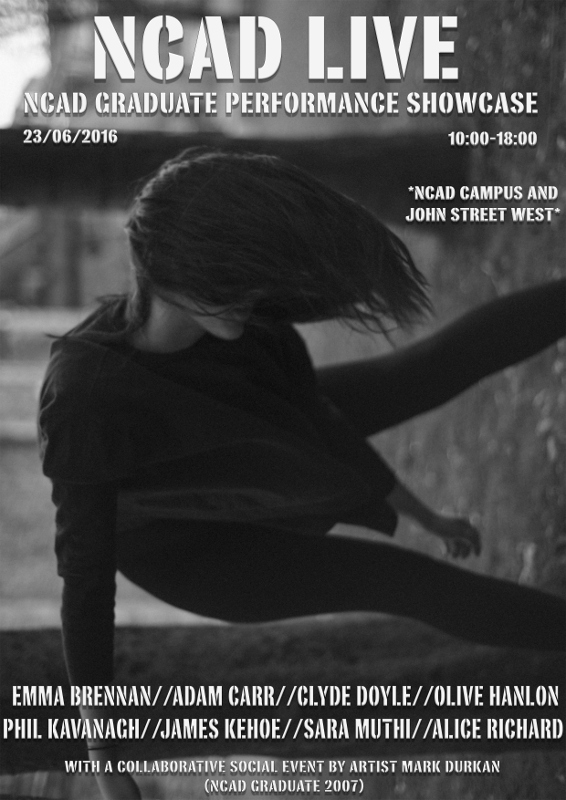 As part of the 2016 exhibition of work by students graduating from the BA and MFA courses at the National College of Art and Design, a day of live performance will be presented on 23rd June 2016. The performances will range from short lecture style performances to durational and interactive works. NCAD Graduate Mark Durkan will also present Opening, a participative live action role play which offers an alternative way to view and engage with the degree exhibition.
The Lost Ones by Alice Richard
first floor ,The School, John Street West
Durational and participative performance – 10:00- 17.30
Questioning our relationships and responsibilities to each other, Alice Richard invites you to engage and take part in the performance The Lost Ones by supplying both the work and the artist with nourishment, nurture, a form of sustenance or else. At nighttime, as the exhibition space closes she will need to overnight in a safe space and receive nourishment, sustenance and rest. If you are unsure how to take part, please ask yourself what would be essential for you.The viability and success of this project is in your hands. Would you make the her day or host her for the night?
Myth of Detritus by Adam Carr
NCAD Garden (between the concourse and red square)
10:00 – 17.30

This performance is in response to the essay ''The Myth of Sisyphus'' by Albert Camus. In short, the essay takes the character Sisyphus from Greek mythology, who is condemned by a god to roll a bolder up a hill just to watch it roll down again, forever. Camus uses this Greek myth as an analogy for existence being meaningless. This work replaces the bolder with exactly one week of the artist's rubbish and the hill is replaced with a staircase. The performance is directed at the futile efforts of work. The artists will roll this bag of rubbish up and down the staircase for 8.4 hours, equivalent to the average working day, with two short breaks. The action of ascending the staircase represents the efforts from work. We want to consume therefore we work and this consumption eventually becomes rubbish. The rolling down of the rubbish translates more specifically to consumption being inherently pointless: Overall, critiquing capitalism's rigid cycle of work towards consumption. However, as Camus stated about existence, we must imagine Sisyphus happy. I the artist is happy during the performance does that mean consumption is validated?

Just Add by Emma Brennan
Main Archway, NCAD
12.00 -16.00
How do we as an artist community perceive and assign value ?These loaves of bread have become more than another currency, and instead became something which can stand in place of the idea of 'art as product'. The one fundamental link between art and bread is that they both involve the transformation from one form to another one resulting in a transformation of a space. Emma Brennan proposes the archway as a channel of transition from the outer world of Thomas Street and the public sphere and the inner workings of NCAD and its artist community. The bread is a welcoming and parting gesture for all those who pass through this space.
Hair Piece by Sara Muthi
Grey Square Marquee, NCAD
12.30 - 14.30
Performatively the artist's practice contains a gentle detangling, exploring degrees of impact on surface. Hair Piece is an intentional and conscious pulling of the hair in order to leave remnants of the body on the surface which it occupies, as if the hair was painting the surface. During this motion the body is used as a site in which to create images with subtle, intentional and controlled unraveling movements. Performing instinctively and following the rhythm of the hair's willingness to untangle and shed.
After 275,235 by James Kehoe
Resin Room, NCAD
13.00 – 14.00
Building relationships with local chippers in order to fuel a series of journeys through the use of vegetable oil. Traveling from the artist's farm in Wexford to his studio in Dublin, exploring the materiality and process of filtering the oil, creating an instillation informed by the human resourcefulness found on the farm, serving chips made from potatoes home grown on Kehoe's farm.
Untitled by Philip Kavanagh
Sculpture Department Workshop, Ground Floor, The Granary Building, NCAD
2.30 – 2.45pm
Through performative inquiry and material assemblage, the element helium is presented as a sort of protagonist in this work and is addressed in terms of it's materiality and 'vitality'. Absurd propositions are offered, like, the idea of looking at stars during the day, and take the form of a staged production...anchored to conflicting paradigms surrounding ecology, conceptions of time and epistemology. A monologue frames and relates to gestural symbolisms that keep this work from floating away entirely. As if at times unsure about the words that are spoken, the artist trusts rather the gestures, movements and materials that accompany the words.
Introducing Epimenia seductus by Clyde Doyle
The Harry Clarke lecture Theatre, Harry Clarke Building, NCAD
15.30 – 16.00
A lecture performance that deals with the newly discovered species *Epimenia seductus* .

Ciúnas by Olive Hanlon
Location TBC​​
15.30 – 16.30
A performer standing facing a wall. Her face is embedded in a papal mitre hat. Ciúnas is a non-interactive piece presented through quiet, contemplative and unobtrusive presence.This work while unobtrusive, contemplative and thought provoking, it questions the conjoined power of State and Church within Ireland
"Opening" by Mark Durkan
Sculpture Department, Ground Floor, Granary Building
14.00 - 18.00
"Opening" is a collaborative social event by artist Mark Durkan (graduate 2007). Set in the context of the NCAD's annual Degree Show, "Opening" invites participants to roleplay fictional characters while attending a simulated exhibition opening. "Opening" facilitates an alternative way to engage with the NCAD exhibition while also exploring the voluntary social contract of an exhibition opening. Participants will act as independent fictive agents within the broader narrative of an exhibition opening, as they roleplay an artist character, or that of a curator, a gallerist or critic, collector or exhibition visitor. Drawing from the psychological social realism of nordic larp (live action roleplay), participants will be invited to experience the artworks and each other through the prism of participatory storytelling.

For more information contact Emma Brennan at emmabrennanartist@gmail.com
or go to the facebook page: